Taipei, Taiwan — October 14, 2014 — Yongtai Electronics Co., Ltd. (JCE) today released the industry 's first MHL® 3.0 certified adapter for connecting MHL-enabled mobile devices to TVs equipped with HDMI® ports. The adapter is based on the latest MHL 3.0 standard and can support UHD resolutions up to 4K and is backward compatible with MHL 1.0 and MHL 2.0 devices. The adapter products are released by JCE's global brand Avier, and will also be supplied to OEMs who want to sell their own brand MHL 3.0 adapters in the future.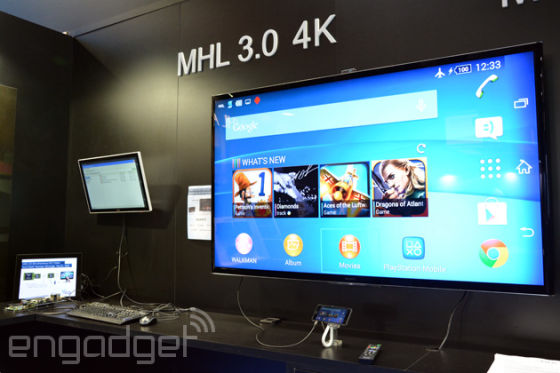 Paul Hsu, CEO of JCE, said: "JCE is committed to providing consumers and leading OEM manufacturers with a variety of high-quality, standard-compliant accessories through its Avier brand. It is one of the earliest MHL adopters. The opportunity for the first MHL adapter is also because we believe that mobile devices and accessories that support MHL 3.0 will continue to grow in the market. At the same time, we also look forward to enabling consumers to connect their MHL 3.0 smartphones or tablets to UHD TVs on board."
The MHL 3.0 adapter released by JCE supports:
· 4K Ultra HD resolution
· Fast charging up to 10W
· No power adapter mode without external power supply
· Support HDCP 2.2 content protection standard to provide 4K ultra high-definition high-quality content
· Passed electromagnetic interference (EMI) conformance test
· Supports Remote Control Protocol (RCP), allowing users to control mobile devices using TV remote control
· Enhanced Dolby® TrueHD and DTS-HD enhanced 7.1 surround sound
· Backwards compatible with all devices supporting MHL 1.0 and MHL 2.0
Rob Tobias, President of MHL, LLC said: "We really appreciate JCE's investment in supporting MHL technology and producing various MHL certified wires and adapter products. These MHL 3.0 adapters are the first in the industry and are an important part of the MHL ecosystem. , Provides important functional support in supporting the connection between MHL smartphones and tablets and HDMI displays, such as the realization of 4K ultra high-definition resolution transmission, enhanced 7.1 surround sound and other advanced features. "
The Avier MHL 3.0 adapter will start retailing at the end of October 2014. The manufacturer's suggested retail price is $ 30. Consumers will be able to purchase these adapters in retail stores and online malls such as PChome, Yahoo Taiwan and Rakuten Japan.
About JCE
Johnson Components and Equipments Co., Ltd. is a Taiwan-based wire and adapter OEM / ODM manufacturer. The company is committed to the development of various industry-certified MHL, HDMI, USB and lighting accessories. With more than 40 years of technical experience, JCE focuses on developing connection products based on various leading technical standards. JCE uses advanced mechanical innovation technology to integrate all components into a cable or adapter. This also makes the company an all-round partner of customers, providing them with a variety of high-quality solutions.
Nine Folded Standing Network Cabinet
Server Rack,Network Rack Cabinet,Network Equipment Rack,Nine Folded Standing Network Cabinet
Ningbo JingCheng Communication Equipment Co., Ltd. , https://www.jingchengtel.com