LeTV officially announced on September 24th the three-generation LeTV Super TV series, which includes the most popular 55-inch music X55 and X55 Pro unified size, the same appearance, but the price is not the same.

The minimum price of LeTV X55 is 3699 yuan, and the lowest price of LeTV X55 Pro is 5499 yuan. The difference between the two is 1800 yuan. So what's the difference between LeTV X55 and X55 Pro? The following titanium technology Xiaobian make a detailed comparison. Look at the music X55 and X55 Pro which is better.
1: LeTV X55 and X55 Pro hardware configuration difference

Super 3 X55 Pro 3GB + 1GB high-speed memory. Of these, 1GB is designed for dynamic picture processing systems and is not visible in system information.
Super 3 X55 has 2GB internal memory. The same 16nm process eMMC5.0 high-speed flash memory.

Both TVs use the same CPU processor, the only difference being that the X55 Pro has one more configuration: the Novatek 72324 Professional FRC chip (motion detection compensation image processing chip for MEMC technology)
2: LeTV X55 and X55 Pro screen contrast difference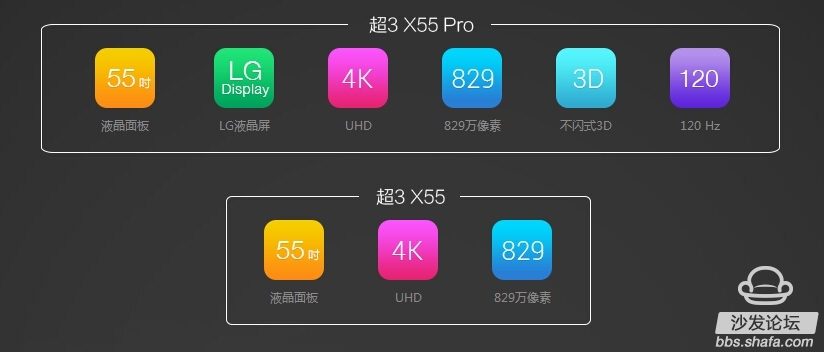 Super 3 X55 Pro 4K screen has an ultra-fast 120Hz refresh rate, combined with Novatek, an image processing chip based on motion detection compensation MEMC technology, adds motion compensation frames through a dynamic image system to increase the frame rate of video content, improve dynamic resolution, and effectively eliminate TV's "motion blur", "image smearing" and "image jitter" problems, make the motion picture smooth and clear, restore the original edge of the contour.
In addition, Super 3 X55 Pro is equipped with FPR polarized 3D. There are more than 500 3D movies available and 3D glasses are included.
The Ultra 3 X55 uses a 60Hz refresh rate. No 3D function.
Super 3 X55 super clear display picture quality. The professional image processing engine MACE-PRO4 brings a clear, high-quality experience. Through a series of innovative technologies, it is possible to eliminate the noise of television or network video, remove the details and colors lost in the transmission of video signals, thereby improving the image quality and fully recovering the content details.
summary:
Super 3 X55 Pro ultra-high refresh rate in the dynamic content, such as racing, football competition will have more advantages. However, it is usually difficult to detect with the naked eye.
3: difference between music X55 and X55 Pro remote control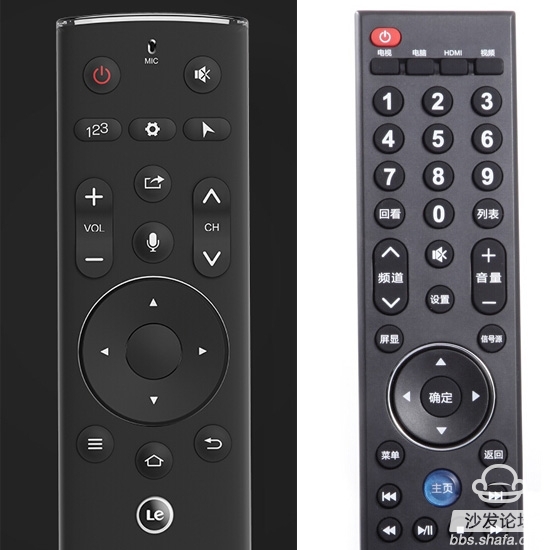 The Super 3 X55 Pro uses Super Remote 3 with its own voice recognition function. It contains a gravity sensor and a gyroscope. It can also be used as an air mouse or game controller.
Super 3 X55 is equipped with a 39-key normal remote control. Of course, Super Remote 3 can also be purchased.
4: LeTV X55 and X55 Pro interface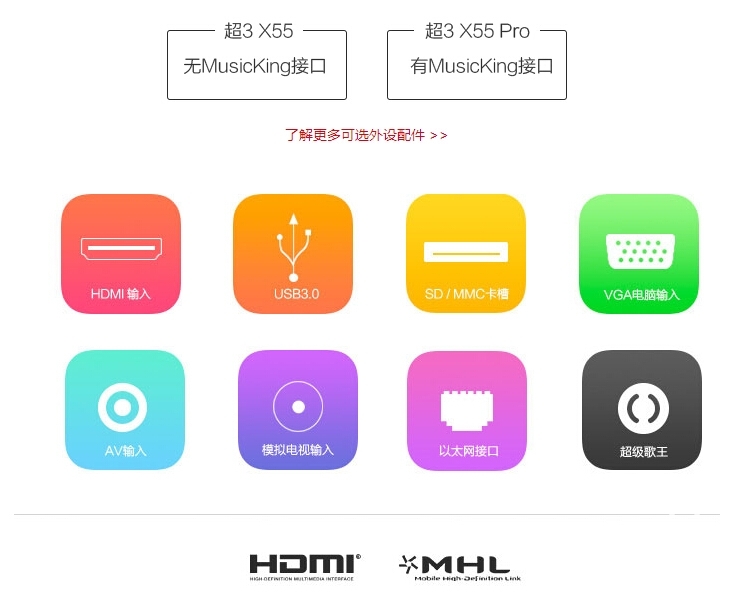 5: Detailed parameters comparison of music X55 and X55 Pro
Purchase suggestion:
LeTV 3 X55 and X55 Pro have no difference in appearance design, UI and content. The X55 Pro is biased towards TV enthusiasts and offers a choice for those who like it best. The X55 can meet most of the family's needs. And the difference between the two is as high as 1,800 yuan. Which is more worth starting? Xiao Bian recommended over 3 X55, or its highest price/performance ratio. The price goes to more than 5,500 yuan, there may be a larger size, better other brand choices, you say?
In the end, LeTV Super TV 3 series can download various large-screen application app software by installing a sofa butler (http://). Make your TV better!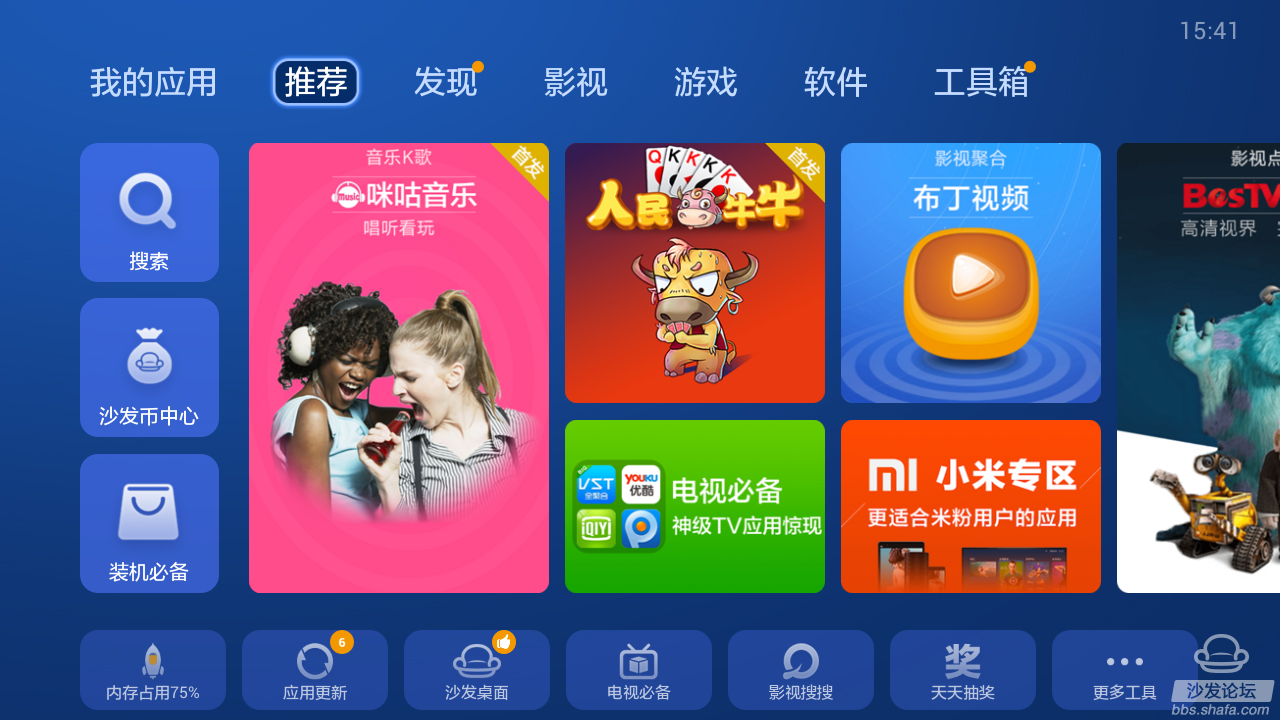 Kara offers a wide range of illuminated and non-illuminated Rocker Switches.Ranging from 1 to 6 poles,4VA to 30 amp,with many styles of colors and functions,especially the switches with High-Current used very widely in the welding machines. Certifications include UL, CSA, TUV, CE, and more. Kara Rocker Switches include the KR1-Series abd KR2- Series based on different size of the panel cut-out.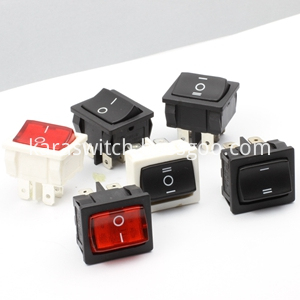 Rocker Switch,Waterproof Rocker Switch,Rocker Switch 3 Pin,Rocker Switch 4 Pin
Ningbo Kara Electronic Co.,Ltd. , https://www.kara-switch.com