On January 10, 2017, the Innovation Workshop released a white paper on artificial intelligence in Beijing entitled "Investing in the Future of AI Eco-Winning and Wisdom".
On the afternoon of January 10th, the Innovation Workshop released a white paper on artificial intelligence strategy and announced the innovation of artificial intelligence investment strategy.
The white paper released by the Innovation Workshop believes that artificial intelligence will spawn hundreds of billions of dollars or even trillions of dollars. In the financial industry, for example, Goldman Sachs estimates that by 2025, artificial intelligence can create about $34 billion to $43 billion worth of value each year through cost savings and new profit opportunities. Automated driving technology has an invaluable economic value for the subversion of transportation and automobile manufacturing.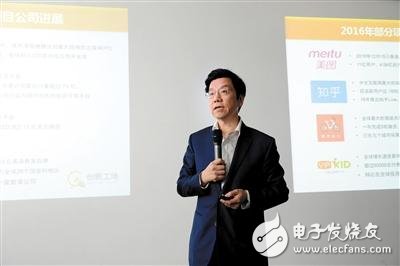 Kai-fu Lee
The reporter learned that the Innovation Workshop has completed the recruitment of the third phase of the $300 million fund and the second phase of the RMB 2.5 billion fund. The total amount of the management fund is more than 8 billion yuan, and the investment projects exceed 300, involving artificial intelligence, digital entertainment, Consumption upgrades, online education, B2B and corporate transactions.
In recent years, innovative workshops have invested in artificial intelligence, and have invested in more than 30 artificial intelligence companies, including the fourth paradigm of artificial intelligence in the financial field, the potential technology of the driverless field, and Face++ in the field of computer vision. In the search for the second quarter of China Maker in 2016, the founder of the fourth paradigm, Dai Wenyuan, won the title of "2016 China Maker".
Kai-Fu Lee believes that 50% of the work will be replaced by artificial intelligence in the future. In some areas, such as translation, security, and drivers, 90% of the work will be replaced. "For example, face recognition, can a guard identify 500,000 faces? But the machine we invested in can be." Kai-fu Lee said.
At the press conference, the core members of the Innovation Workshop Artificial Intelligence Engineering Institute also made their debut, including Google senior engineer Wang Yigang and Microsoft Research Institute researcher Wang Jiaping.
Li Kaifu said that in the next three years, the innovative workshop plans to attract 20 scientists to join, training 50-100 AI young engineers in one year, and hopes to produce 10 VC investment projects in one year.
The lightweight and compact CoreHub-C is very compact and can easily plug in the USB Type-C port on your laptop. You won't even realise that there is an integrated Type-C USB Hub that lets you ensure all the ports you get on using your laptop etc. Corehub - using USB 3.1 Type c - c charging interface three USB 3.0 port HDMI port Ethernet port and an SD/list and microSD card reader integration charging port you do not need to apply only to failure because of this Type - c USB hub port includes a charging bridge "can even let your laptop computer charging with other ports Plug and play just insert USB 3.1 corehub - c adopt new Type - c Port and enjoy a seamless connection to your laptop
Hub Adapter,Hub Centric Adapters,Hub Converter,Dually Hub Adapter
CHANGZHOU LESEN ELECTRONICS TECHNOLOGY CO.,LTD , https://www.china-lesencable.com