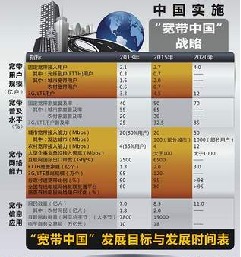 The State Council issued a "broadband China" strategy and implementation plan a few days ago, marking the official rise of the broadband strategy to the national level. What benefits will Broadband China bring to the people?

Fake Broadband Clouds

At present, China's broadband industry has 156 million wired broadband subscribers in the industry, and the population penetration rate is less than 14%, far below the average level of 30% to 40% in developed countries. The average industrywide access bandwidth is 1.8 megabits per second (Mbps), which is less than 1/10 of the OECD average.
According to international experience, the penetration rate of broadband population exceeds 10% into the period of rapid growth, reaching a stable growth period after reaching 40%. Since 2011, China's broadband population penetration rate has exceeded 10% and entered a period of rapid growth. It is expected that by 2015, it will increase to around 20%, and the average annual net increase will exceed 30 million.
The development goal set forth in the "Broadband China" strategy and implementation plan is that by 2015, the next-generation national information infrastructure that meets the needs of economic and social development will be initially established. The broadband access capacity of urban and rural households basically reaches 20 megabits per second (Mbps) and 4 Mbps, and some developed cities reach 100 Mbps.
"For the people, this is like going from the 4 lanes to the 20 lanes. Broadband networks will be more fluent and fake broadband problems will become an issue." Professor Zeng Jianqiu of Beijing University of Posts and Telecommunications said.
"With the increase in network speed, the cost of optical fiber will be reduced, and the cost of Internet access will be relatively cheaper. This will further promote the innovation of broadband applications, foster new markets and new formats, and accelerate the development of modern service industries such as e-commerce, modern logistics, and online finance. New generation of information technology industries such as cloud computing, Internet of Things, mobile Internet, and smart terminals, said Miao Wei, Minister of Industry and Information Technology.
SMEs will be the beneficiaries of the "broadband China" strategy. The Internet will be integrated into the company's production and operation processes, and third-party e-commerce platforms for SMEs will be supported by the state. Online sales, procurement, and customer relationship management activities will be more convenient and efficient.
In general, broadband reaches 8Mbps, users can access high-definition IPTV without barriers. If home users reach 100Mbps access bandwidth, they can create an Internet world at home, and 100Mbps optical fiber can fully meet the demand for network video and audio entertainment.
Rapidly narrowing the urban-rural digital divide

The common practice in the international community for universal broadband services is to be led by government finance and establish broadband universal service funds for broadband investment and operations. The funds can come from multiple sources, such as a portion of financial capital investment, and a certain percentage of income from high-profit telecommunication services. Telecommunication companies that build telecommunication networks in remote areas will receive subsidies from the Universal Service Fund.
It has been estimated that the payback period for broadband access to villages in the central provinces of China will be more than 11 years. Broadband broadband in the West Village will be unable to recover investment. Moreover, the cost of operation and maintenance of Broadband Broadband in the western region is far higher than the broadband user fees that users can pay, and operators will face difficulties in sustaining their operations. At present, China's rural areas that do not have access to broadband are basically areas where broadband networks generally have large investment, high operation and maintenance costs, low business revenues, and companies that have long been unable to recover their investments.
The implementation of the "Broadband China" strategy is expected to rapidly narrow the urban-rural digital divide with the support of the state finance. According to Shi Wei, Director of the Industrial Development Research Institute of the National Development and Reform Commission, the State will increase financial support for broadband networks, make full use of various special funds from the central government, and guide local funds to invest in the development and industrialization of broadband networks, and rural and rural areas. Broadband network development in the poor areas.
All along, due to the absence of telecommunications laws and regulations, barriers to the interests of the departments have made it impossible for information technology applications such as triple play to enter the production and life of the people.
In the "Broadband China" strategy, the State Council puts forward for the first time that local people's governments at all levels must incorporate broadband development into regional economic, social, and urbanization development plans, strengthen organization and leadership, incorporate advanced real-time deployment, increase capital investment, and provide policy support to avoid Repeated construction, and promote the rapid and healthy development of broadband in this area, this undoubtedly equipped with a sword for the smooth promotion of broadband network construction.
"The 'Broadband China' strategy will accelerate the introduction of relevant laws and regulations, clarify the legal status of broadband networks as a national public infrastructure, and strengthen the protection of broadband network facilities," Shi Wei said.
The "broadband China" strategy clearly stated that the implementation of broadband network construction plans and regulations shall be strictly implemented, broadband network construction shall be incorporated into the urban and rural planning and land use planning, and the design, construction, and acceptance of the broadband network facilities in residential communities and residential buildings shall be effectively implemented. We will make a good connection between the broadband network and the planning and construction of transportation facilities such as highways, railways and airports.
The "last mile" distance will really be no longer far away.
Industrial Computers and commercial computers have always been inextricably linked. They each have their own application areas, but they affect each other and promote each other, reflecting the progress of science and technology. At present, it is better to do Sanqi Tuoda in China and Advantech in Taiwan. Advantech has a higher reputation, but its price is higher. The industrial computer site can be embedded in the machine, cabinet or placed on the operation table, and it can be used as a man-machine display interface. It is used in telecommunications, electric power, multimedia, national defense, automation equipment, manufacturing and other fields. It is used as a man-machine interface, thin client, PLC and POS communication and control terminals. Digital hospitals are used as bedside service terminals and outpatient terminals to improve hospital service and management. Banks, shopping malls, hotels, railway stations, buses, subway stations, parks and other public places as media (advertisement) players or inquiry terminals. High-end residential quarters are used as home service terminals to implement intercom, message, cost inquiry, product order, home appliance management, temperature and humidity control, etc.
Industrial Computers
Embedded Computer,Industrial Computers,Industrial Pc,Rugged Computer
Shenzhen Hengstar Technology Co., Ltd. , https://www.angeltondal.com